Training Customization
At HRTrain we believe in building long term relationships. Our goal is simply to help your organization fulfill its training needs. Whether its...
Customization
Employee tracking
Recording of completion status
Invitation emails
Scheduling email reminders to those employees who haven't completed the training
Selecting content based within your industry and/or state law compliance
...We want to make as it easy as possible for you to obtain the training solution you want for your organization.
We will work with you to ensure that your training will meet your organization's goals. We believe that customizing the training provides critical benefits to your organization and your employees, so we make it easy for you. In fact, HRTrain's discriminatory and sexual harassment prevention solutions all include customization features such as your organization's discriminatory harassment prevention policy and a message from senior management.
Customization Details
Include your organization's Logo
Include your organization's Discriminatory and Sexual Harassment Prevention Policy
Include scenarios depicting harassment situations that are relevant to your organization
Include a message from senior management
Include an email address at your organization so that employees can email training related questions to the appropriate person
Electronically record and track employees' progress, as well as email completion notifications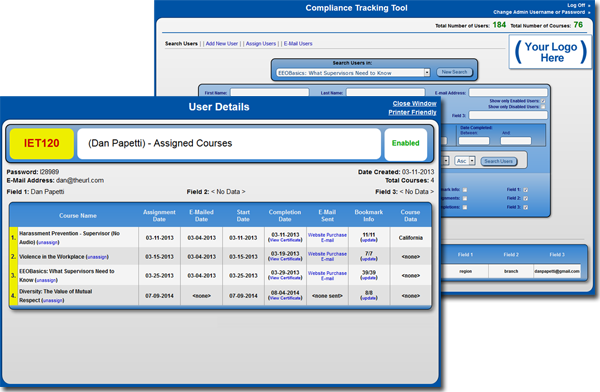 Our new HTML5 harassment prevention training program's color scheme is also now customized to automatically match your organization's logo color
We also feel that it is important that the scenarios appear relevant to the employees. Therefore, we do have some scenarios set in specific environments including technical, restaurants/food service, healthcare, and education.
Provide SCORM Compliant versions of the training for hosting on your LMS, if preferred. Our courses have been made SCORM compliant through Rustici Software.
More Info »
← Back to Why HRTrain